Shin-ichi INOUE

Qualifications
Patent Attorney(Registered in 2009) No. 16241
Ph.D. in Science
Type-I radiation protection supervisor (22178)
Certified Specialist of Intellectual Property Management (IP0810000119)
Languages
Japanese, English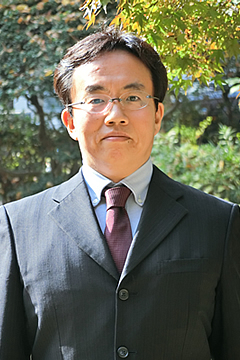 Profession & Career
Mr. Inoue is in charge of domestic and foreign patent applications, prosecutions, appeals, trials and expert opinion preparation. He is also in charge of plant variety application and patent microorganism deposit application.
He specializes in experimental chemistry, especially in inventions associated with chemical structures, sequence listings, and deposit receipts. He can provide a high level of services for the patent cases on basic research in light of licensing as well as for the patent cases on the final industrial products such as medical inventions in light of patent linkage system and food use inventions in light of functional indication food system.

He engaged in research and development work for a total of 12 years as a researcher at Banyu Pharmaceutical (now MSD Pharmaceutical) and Kazusa DNA Research Institute.
As a Japanese patent attorney, he worked for domestic patent offices for a total of 11 years, and also experienced the director of intellectual property department in a bio-venture company.
He joined TSUKUNI & ASSOCIATES in November 2020.
Education
Graduated from The University of Tokyo, Graduate School of Science, Department of Biochemistry (Doctor of Science) (1996).
Articles, Publications, Lectures
Articles
Construction of Highly Extensive Polymorphic DNA libraries by in-Gel Competitive Re-association Procedure. Genomics 31, 271-276 (1996).
Sequence Analysis of Genomic Regions Containing Trinucleotide Repeats Isolated by a Novel Cloning Method. Genomics 57 69-71 (1999).
Growth suppression of Escherichia coli by induction of expression of mammalian genes with transmembrane or ATPase domains. Biochem. Biophys. Res. Commun. 268 553-561 (2000).
The RAIG family member, GPRC5D, is associated with hard-keratinized structures. J Invest Dermatol. 122(3):565-73 (2004).
Effects of methylation of non-CpG sequence in the promoter region on the expression of human synaptotagmin XI (syt11). GENE 348 123-34 (2005).
Synaptotagmin XI as a candidate gene for susceptibility to schizophrenia. Am J Med Genet B Neuropsychiatr Genet 144B:332-340 (2007).

Lectures
Special public lecture in Chiba peninsula entitled "DNA and drug discovery" (2009).
"Current Status and Problems of Patents for Functional Foods" sponsored by the Japan Patent Attorneys Association Training Institute (2012).
Panel discussion "Agriculture, forestry and fishery products and protection of intellectual property thereof" sponsored by the Japan Patent Attorneys Association Training Institute (2014) (also published in the July 2014 issue of Patent magazine).
"Plant: double protection by the Patent Law based on description and the Plant Variety Protection and Seed Act based on substance", Intellectual Property Association of Japan (2014).
"Invention for Food Use" sponsored by Japan Patent Attorneys Association Training Institute (2019).

Publications
"Patent of plants ", Patent magazine June 2020 issue.
Hobbies and interests
Kitchen garden, Scuba diving