Yoshiko MORITA

Qualifications
Pattent attorney (Registered in 2004) No.13365
Qualified as a litigation representative before court (Registered in 2017)
Ph.D. in Pharm.
Languages
Japanese, English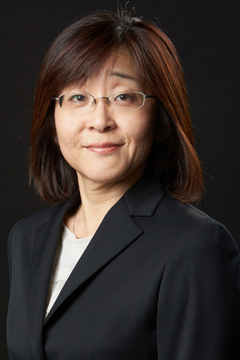 Profession & Career
Ms. Morita is in charge of domestic and foreign patent applications, prosecutions, appeals, trials and expert opinion preparation.
She specializes in Biotechnology, Immunology and Pharmaceuticals, and can provide a particularly high level of services with respect to patent cases in the fields of pharmaceuticals, diagnostics, antibody drug, regenerative medicine, foods, cosmetics, and polymers.

She worked for JT(Japan Tobacco Inc.) for 17 years being engaged in R&D of antibody drug and regenerative medicine. After her career in JT, she joined a domestic patent firm in Tokyo, being in charge of patent applications and prosecutions thereof (in the fields of pharmaceuticals, biotechnology, foods, and cosmetics) for 2 years.
She worked as Postdoctoral researcher in University of New Mexico (USA) for 3 years researching membrane trafficking of rhodopsin in photoreceptor cells.
She joined a domestic patent firm in Kobe, being in charge of patent applications and prosecutions thereof(in the fields of polymers, and chemicals) for 2 years. She worked for IP department in the venture company for 1 year being in charge of patent applications and joint research agreements.

She joined TSUKUNI & ASSOCIATES in May 2013.
Education
March 1987:
Graduated from the University of Tokyo, Department of Pharmaceutical Science, Faculty of Pharmacy.
Articles, Publications, Lectures
Selected publications (joint work)
・The Arf GAP ASAP1 provides a platform to regulate Arf4- and Rab11-Rab8-mediated ciliary receptor targeting. EMBO J. 2012 Oct 17;31(20):4057-71.
・A conserved signal and GTPase complex are required for the ciliary transport of polycystin-1. Mol Biol Cell. 2011 Sep;22(18):3289-305.
・A murine stromal cell line promotes the expansion of CD34high+-primitive progenitor cells isolated from human umbilical cord blood in combination with human cytokines. Growth Factors. 1999;16(3):225-40.
・In vivo analysis of Fas antigen-mediated apoptosis: effects of agonistic anti-mouse Fas mAb on thymus, spleen and liver. Int Immunol. 1997Feb;9(2):307-16.
・Expression and function of mouse Fas antigen on immature and mature T cells. J Immunol. 1995 May 1;154(9):4395-403.
・Involvement of apoptosis antigen Fas in clonal deletion of human thymocytes. Int Immunol. 1994 Dec;6(12):1849-56.
・Activation of human monocytes by interleukin-2 and various cytokines. J Immunother. 1992 Aug;12(2):90-7.
Hobbies and interests
She is fond of playing tennis and walking.